CEO'S MESSAGE
K. CHANDIRA SEKAR,
Promoter & CEO, TFT Pumps.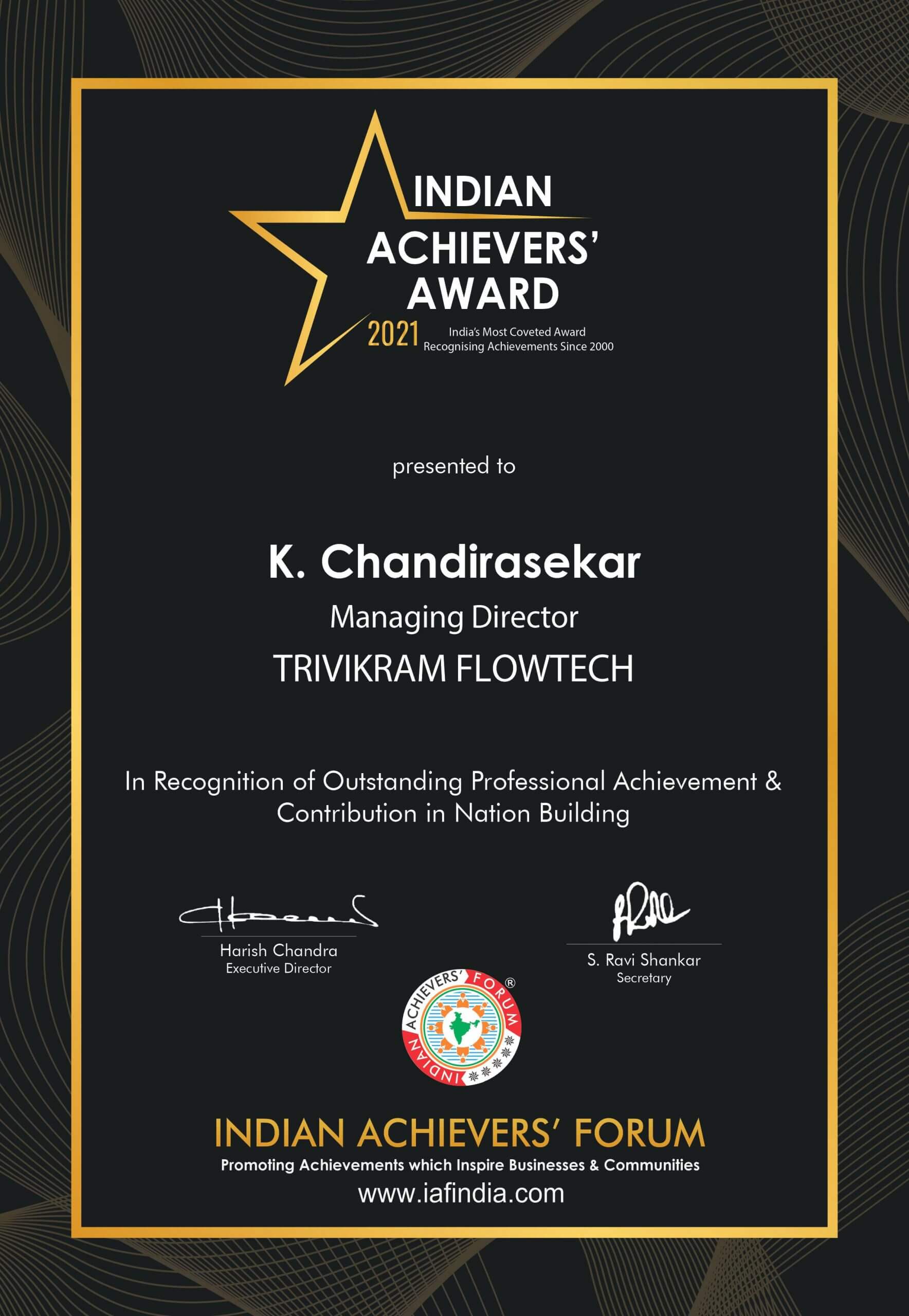 We are reaping the fruits of our 25+ years of hard work and commitment. Our customer & employee satisfaction says it all. With a goal to become a global leader in the industry, we look forward to sharing more details about our progress on providing the best quality products - today and in the future - across the world!
Launched in 1999, we at Trivikram FlowTech Pumps, has been providing extraordinary fluid solutions to various industries and grew in strides of industrial development over the past 2 decades.
Our team has built its core expertise in the selection of pumps, R&D, Manufacturing & Application engineering complemented with seamless after-sales service and technical guidance to every customer.
I take extreme pride in sharing that with the sound of hard work, the proactive and positive approach, we progressed over the years alongside our dedicated team to become a globally established organization. Since our inception, we have steered through every challenge and adversity with an ownership mindset, which has promoted a sense of trust in our customers while giving our employees a stake in the outcome.
Transcending the limitations
We're never satisfied with the status quo. That's why we strive every single day to make our models better and do everything in our power for them to be as effective as possible by only using proven technology that meets all international standards.
We've always been proud of being a leader in innovation. Our continuous focus on improving what sets us apart from other manufacturers is something you can see across each and every model - from production lines built from scratch with sustainability at its core, all the way up to ever-evolving product designs planned around customer needs and environmental changes
Towards a better future - for you & us!
Our plans to enhance our sustainability measures and incorporate furthermore viable technology practices build on our history of seeking constant improvement and innovation endowing the finest value to our customers & stakeholders.
Driven by values
From a small venture with a grand ambition 20 years ago to providing centrifugal & positive displacement pumps for diverse industries in India and overseas, we have transformed multifold. But one thing remains the same - the underlying values that are guiding us.
Commitment to our customers -
No matter what, we are hell-bent to provide honest, safe, and finest quality products and services to our customers. We believe in building trust with transparency.
Valuing our employees -
Everything we have achieved so far is because of continued support from our employees. We value their opinions, ideas, and contributions, thus creating a positive workspace culture when we as a team empower one another.
Customer-centric business ethics -
Building trust is one part. But the real strength lies in maintaining it. We are doing it for decades together, by prioritizing honesty, integrity, beneficence & maintaining confidentiality.
Adhering consistently to these core values has set us apart from others helping us to gain the unmatched trust of our customers.
As a company, we always have and will continue to set ambitious goals. But our dedication is something that has never changed even in the face of these difficult times. So we believe there's no reason for you not to put your faith in us and our pumping solutions. In the coming years, we envision ourselves as an industry leader delivering innovating and long-standing solutions for a diverse range of pump requirements across the globe.
I thank you with all my heart for your trust and support towards TFT pumps.
K. CHANDIRA SEKAR,
Promoter & CEO
TFT pumps.

Date: June 14, 2021